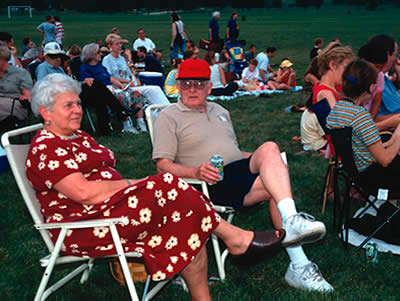 Scroll down to see what others said about this picture.
My initial assumption is that they are alumni who are back on campus to tailgate before a football game. As with any alumni couple, I like to imagine that they met here and fell in love at some campus location that I myself have visited. It's probably the middle of the day, and since most alums come to
campus for particular events, it's probably an important game. -Anne Maloney
An older couple, perhaps in their late 60s, is sitting out of doors on an early summer evening. They might be at a concert, but I would guess it is a sporting event, probably UIUC athletics. They look relaxed and happy. Sharon Irish
Ugghh! Meet the parents day? Some kind of open house event, or perhaps some stupid sports event held out on the big lawn. Well, actually it looks more like an evening concert or performance of some sort. -Jim Dailey
Just off the farm, Molly and Ben have retired and moved to town to be near Meg, their youngest, as she attends Midwest U. Couldn't resist letting her go there after seeing the nice postcard of all the students at the balustrade. Ben sips a soft drink, which he expects will allow him to live to 100; never touches anything stronger than Mountain Dew. Meg's sorority will put on a Spring fashion show, "Midwest Now!," in a few minutes, a fund raiser for the sorority's overseas branch just starting up in their sister city, Victoria, BC. The fashions are outfits to wear to soccer games. -Steven A. Bluhm
Because of the presence of a field goal in the background, I at first thought that perhaps the picture was of spectators at a kind of sporting event (i.e. soccer). However, the attention of the audience does not seem to be directed toward the playing field (as people are seated with the goal post to their backs, as opposed to having the stretch of the field (conveniently) visually accessible). (Perhaps there are other playing fields within the same area that are being occupied at this time). Nevertheless, I believe the people are an audience to an event and/or activity of some sort, due to the number of people present and the type of seating availability and set-up (i.e. lawn chairs and blankets). People appear seated in clusters and in fairly close proximity to one another-perhaps the clusters are omposed of family and friends. The facial expressions generally appear to be pleasant or otherwise neutral, which leads me to believe it is not a somber occasion. The dress appears casual and suggests a more informal type of event and setting. The audience appears to span a wide age range (if looking to the background of the picture), but within the foreground of the picture (and slightly beyond the foreground) the audience appears older in age. I'm not sure how to interpret the diverse age range-my first inclination is to think that perhaps the event is more of an off-campus or community oriented event, or a family-visit weekend. The duration of the day's activity is perhaps long, as many people are seated with coolers (and are perhaps prepared with beverages, snacks, or lunches). -Nicole Ortegòn
You might consider:

- What seems to be taking place in the picture (i.e. an
event, an activity, etc.).

- What in the scene leads you to your conjectures?

- Describe the environment, setting, or ambiance.

- Consider the people in the picture.

- What do observe about them (i.e. in terms of age,
attire, etc.)?

- How do you think the people are related to one
another?

- How does your perception of the people and setting
relate to your overall understanding and
interpretation of the scene?