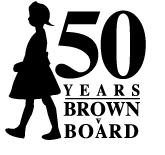 Message from Chancellor Cantor
Dear Colleagues,
Several years ago the Campus Committee on Diversity made several important recommendations to the campus leadership. Among those recommendations was that the campus make a special effort to commemorate the 50th anniversary of the U.S. Supreme Court's monumental decision in Brown v. Board of Education. On May 17, 1954, the Court handed down its decision finding de jure segregation to be unconstitutional.
I was particularly struck by the Diversity Committee's recommendation regarding Brown. The Brown decision was one of the great defining landmarks of the twentieth century. It seems fitting for our institution and community to devote the 2003-2004 academic year to events and activities that both celebrate the great strides that have flowed from the Brown decision and the unfinished work that remains before us.
Last year I asked Dean Susan Fowler of the College of Education and Professor Thomas Ulen of the College of Law to co-chair a committee to coordinate the campus and community events commemorating Brown in the 2003-2004 academic year. They have assembled a Steering Committee -- Reg Alston, Kathryn Anthony, Rene Bowser, Vernon Burton, Walt Harrington, Masumi Iriye, Sarah Mangelsdorf, Larry Parker, and Kathy Perkins. The Committee has already made great progress in planning events for the coming academic year. Committee representatives have met with leaders of every campus college and most administrative units to discuss and coordinate ways in which the entire campus can be involved in this initiative

One of the first campus-wide activities of the Committee was a Request for Proposals for scholarly and creative projects. The Committee solicited proposals from faculty, students and staff for projects that address scholarly aspects of the Brown v. Board of Education decision broadly defined to include not only educational access, but also other aspects of democracy and social justice in this country and globally. I urge you to take advantage of the many opportunities these projects will offer to reflect on the implications of Brown v. Board of Ed through research projects, speakers, seminar series, creative arts exhibits, works and performances, continuing education workshops, panel discussions, and other scholarly/creative works. A link to funded projects appears on this website, as does a link to calendar of events to be held throughout the Brown commemorative year.
Nancy Cantor
Chancellor